HAIRDREAMS offers the best in human hair extensions. There are several different types of hair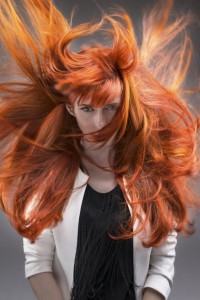 available including Indian Temple Hair, naturally curly Brazilian hair, and Virgin Russian hair. The three textures available are straight, wavy and curly, and there are well over 90 different colors to choose from. These extensions are made to match perfectly with your very own hair, and can be used to add the length and thickness that you've always wanted.
How they work:
Each lock of hair has a "bonding" at the tip, which will gently bond the Hairdreams strands and your own hair close to the root. The bonding is warmed up which will cause it to soften, and then is rolled or pressed around your own hair and the Hairdreams hair. This process is repeated until all of the strands have been applied.
Two types of Hairdreams Hair: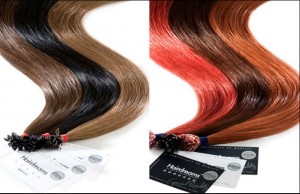 It's all up to you on what hair you'd like to make your own. There is the Hairdreams 5 Star and the Hairdreams 7 Star Special.
Hairdreams 5 Star is made up of dark colored human hair. This hair is lightened and colored to a specific shade over a 24-hour period of time. It is tapered at a maximum of 7-10 cm, and can be work for  4-6 months.
Hairdreams 7 Star Special is made from top quality human hair from Europe. It is hand-selected according to each color. This is the best quality possible! It is tapered to a maximum of 3-4 cm and can be worn for quite a bit longer than Hairdreams 5. This special hair can be work anywhere from 4-6 months, up to a yeah and half, with the proper care.
Hairdreams Quikkies
If you don't have the time to do the bonding that the Hairdreams Extensions require, it's really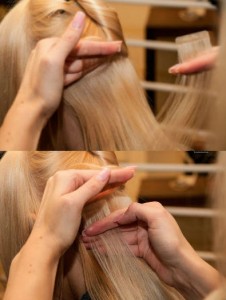 no problem! Hairdreams Quikkies come in a variety of colors as well, and also provides length and volume in a shorter period of time! These Quikkies consist of a 4 cm –wide strip of original Hairdreams hair attached to a light microfiber gauze. It's very durable and is made to conform to each client's head. Not only is it comfortable, but it also looks very natural, and it's such a gentle and quick process! These Quikkies are also made of 5 Star and 7 Star Special hair, and come in natural colors and extra-bright effects. These are able to be used for 4-8 weeks, and are reusable.
SCHEDULE YOUR FREE CONSULTATION WITH ME TODAY!